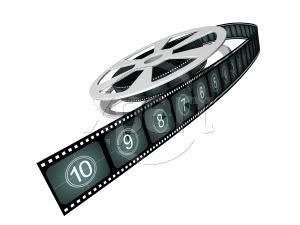 Most people will discuss the opening of a novel and never mention the ending. But it has been my experience that I can like a book all the way through but the ending can kill it for me. Not always. Not as important but it still has a vital impact on the overall feel of the story and how readers respond to it.
So today, I take my cue from movies - not books. I love movies just as much as books. Well, almost as much. Some of the more memorable ending movies have been my favorite. I love a story line that I cannot guess. One of the things I do upon watching a movie is try to determine "who done it and why." If after 15 minutes of the movie, I can guess the ending, I don't typically like it. I want to be surprised.
There are spoilers for some of the movies I listed. So, two things: shame on you for not seeing the movie sooner, and where do you live that you haven't seen or heard this?
What are my favorite movies with killer endings?
The Skeleton Key – You never knew what was going on until it was too late..too late for you and too late for her. This movie made older southern women creepy. Yeah I would say it made New Orleans creepy but it has always had its own mystery. Hasn't it.
The Sixth Sense – Yeah, dead guy walking through the entire movie…What else is there to say about this M. Night Shyalaman's masterpiece. As a side note: I haven't liked any of his other movies. I tried but just didn't like any of them. The Village was promising but just didn't do it for me.
Wild Things – This movie had so many tiny twists that they caught me off guard. Not a kiddy flick but it was a really good movie. And it wasn't just Matt Dillon – but it didn't hurt to have him in it either.
The Usual Suspect – Okay, the cripple guy's (Verbal, don't you love that name) the crazy killing loon. Love the entire cast of this movie, too. It has some of the best movie lines ever! This is one of my favorite movies of all time. Love it.
The Blair Witch Project – Yeah, this low budget movie broke new ground and scared the crap out of me. The final scene where the girl is hit from behind and the camera falls… Be honest you went and looked up the Blair Witch Project on your computer, too. You had to know if it was real. Right. My hubby and I ran from the theater to the computer when we got home. The freaky part – at first they kept saying it was real. Couldn't find anything to refute this for a while… Yeah I slept with the lights on for a while.
Primal Fear – Who would have thunk the babbling, stuttering country boy was the murderer – not the lawyer who defended him that's for sure. Plus, Edward Norton is a genius in front of the camera – love him.
Stephen Kings The Mist – I want give this one away- it's not that old. But the ending will leave you wanting to fight or break down in tears. Or scream "Why" repeatedly at the TV screen…Gotta love the mind of Stephen King
The Ring – Come on Samara Morgan, you've killed my Estranged Baby Daddy, my precocious niece, and now you're still gunning for me and my strange silently creepy son too… What do you want? You'll be surprised. What would you have done? Made that copy???
What do you think of my choices? Did I leave your favorite movie off the list? Let us know in the comments.
Have a great day. Read a book and laugh.